TRAINING FOR ALL LEVELS
KIDS AND ADULTS
No matter what level or age, when you train with Champions, you invoke your inner-Champion. Apex MMA offers Kids (6-13) and Adult (14+) Programs in various styles of martial arts, Personal Training, Nutrition and more. We specialize in the sport of Mixed Martial Arts.
We offer Kickboxing, Muay Thai, MMA, HIIT & Kick, Judo, Kids MMA, and Grappling. We train beginners looking for an awesome "un-boring" workout while learning useful combative techniques, as well as professional fighters and athletes. We also have a cardio and weight training area.
You're going to love it here!
Intro Class
Our Intro class is the best place to start for beginners. We have designated 30 minutes with your Apex Coach to focus on technique and learn fundamentals of proper stance, motion, defense, and fine tuning basic strikes used in kickboxing and other Apex classes. While we don't require it as a prerequisite to other sessions, it is very helpful in creating a foundation for your experience here at Apex.
HIIT & Kick
This session is great for beginners or anyone looking to increase fitness level and strength, add some fun in your workout regimen with kickboxing. You can expect basic boxing and kickboxing combos, high intensity intervals, and a great workout.
These classes are only 30 minutes but pack a punch!
MMA Grappling
Grappling at Apex involves takedowns, positions, and submissions geared for mixed martial arts. During each session you can expect our grappling coaches to explain techniques step-by-step in detail, allow time for students to practice and drill these techniques, and lastly to have the opportunity to roll with other students. We highly recommend attending this session if you want to learn self-defense. Grappling is also sometimes referred to as "no-gi jiu jitsu."
Judo
Judo is a traditional sport that involves takedowns, throws, trips, ground control, chokes, joint locks and other submissions wearing the kimono uniform. We welcome new students in Judo and can lend a uniform to try out a session. After becoming part of the team, you can order your own embroidered team uniform. Apex Judo Athletes have the opportunity to advance in belt rank over time. Apex Judo is a chartered club with the United States Judo Association.
MMA Striking/Kickboxing
These sessions incorporate boxing, kickboxing, and various striking techniques geared for mixed martial arts. You can expect to learn techniques and combinations, bag work, partner drills with mitts or pads, and an intense workout. Classes are available to beginner to advanced levels. As always, we welcome beginners to these classes at their own pace and level.
Session length: 1 hour
Muay Thai
Muay Thai or Thai Boxing is a style of "kickboxing" and is the national sport and cultural martial art of Thailand. It was developed hundreds of years ago as a form of close-combat that utilizes the entire body as a weapon. Muay Thai is referred to as "The Art of Eight Limbs" utilizing fists, legs, knees and elbows, as well as other traditional techniques. Class will often include bag work led by the Coach, partner drills to increase technique and conditioning, and optional sparring after class. This class is suitable at a self-pace for beginners, to advanced levels.
MMA
Our Mixed Martial Arts program incorporates striking and grappling techniques, both standing and on the ground, and is combined with conditioning drills to achieve the ultimate level of fitness required in the sport. This class is suitable for intermediate or advanced levels.
Kids MMA
The Apex kids MMA program instills the traditional fundamentals of martial arts while allowing students to experience various martial arts including karate, Muay Thai, boxing, Judo, and wrestling. The program rewards attendance, skill and character through our belt rank promotion system. Recommended ages are 6 to 13. Kids sessions last one-hour and are offered in-person or livestream.
Click here for a list of Kids MMA subscriptions
One-on-One Training
Reach your goals with speed!
When you train one-on-one with our Coaches, many of whom are Professional athletes or Champions, you will be able to progress much more quickly due to the customized nature of the training. You will have the opportunity to discuss your goals with you Coach and each session will progress you toward making your goals reality. Whether you are interested in advancing in a martial art, winning your next tournament, or transforming your body and lifestyle, our Coaches have the tools to get you there. Get in touch with us to talk about your goals and find your best fit!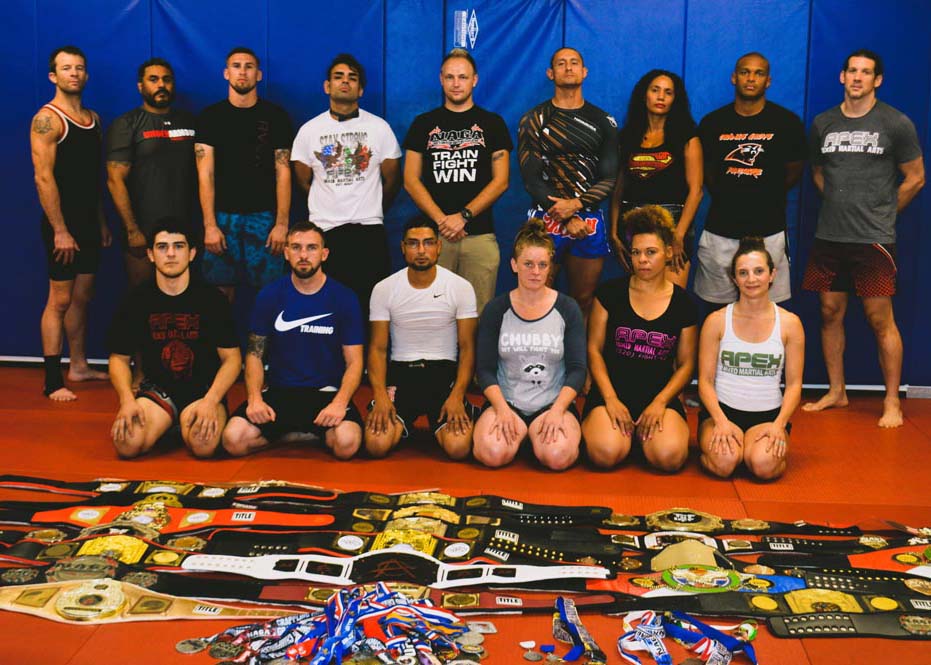 Competition Team
We have the largest competition team in Tucson. Our competition training is designed to help our competitive athletes develop skills necessary to succeed in the cage, ring, or on the mats. If you are interested in competing, whether youth or adult, novice or seasoned, reach out and we will discuss the events we participate in and how to become part of our team.
Remote or Hybrid – Nutrition, Fitness, and Accountability Coaching
It doesn't matter where you are, if you want to be coached by a Champion Athlete, we are within your reach! Whether your goal is weight loss, toning up, or gaining muscle, we have a program for you. We provide a one-on-one accountability coach that meets with you to create an entire custom nutrition and fitness program specific to your goals, monitors your progress daily, meets with you in person or on video calls, and can be reached anytime. This program can include our in-person or live-streamed group sessions, or completely remote personal-training sessions that walk you through each exercise step-by-step in our app. Get in touch to set up a free consultation to learn more!
Frequently Asked Questions